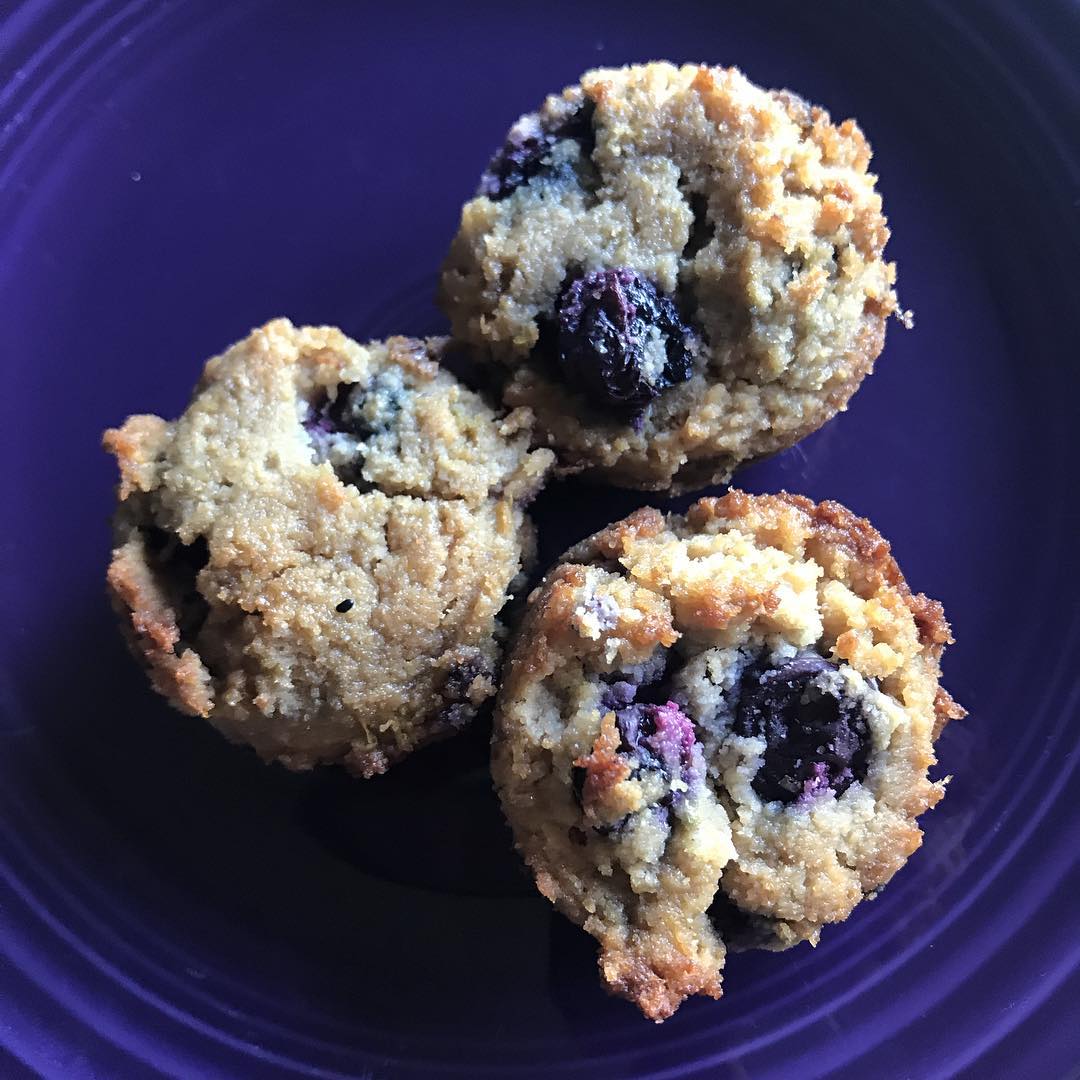 I'm a sucker for anything lemon so of course I had to create a blueberry lemon mini muffin to change things up. This can be made as a bread as well, however, I prefer making this type of thing in muffin form to help with portion control. These are so yummy and refreshing and go with a great cup of joe at breakfast or as an afternoon pick me up!
Wet Ingredients:

1/4 cup coconut oil
1/4 cup unsweetened apple sauce
1/3 cup coconut sugar
1/4 cup pure maple syrup
2 eggs
1 tablespoon vanilla extract
Juice of 1 lemon

Dry Ingredients:

1 1/2 cups almond flour
1/2 cup coconut flour
1 tsp. Baking soda
1/2 tsp. Salt
Zest of 1 lemon
1 cup fresh blueberries + 1 tbsp. whole wheat pastry flour

Directions:

Place oil, apple sauce, sugar and syrup in the bowl and blend until combined (I used a stand up mixer).
Add eggs, one at a time, and mix.
Add vanilla extract and lemon juice and mix.
Place blueberries in a small bowl and toss to coat with WW pastry flour. Set aside.
In a separate bowl, combine all dry ingredients (except the blueberries)
Mix on low (stir setting) until wet and dry ingredients are just combined. Then stir in the blueberries
Use a small ice cream scoop to scoop batter into mini muffin tins (be sure you spray non stick spray on your tin to keep muffins from sticking).
Bake at 350 degrees for 18-20 minutes. Tips will be slightly darker than golden brown and center form.
Allow to cool completely before removing from tin and serving.
Store in an air tight container for up to a week.
1 serving = 3 mini muffins